PREFACE
This book is written primarily to the person with an eating disorder. An attempt has been made to approach the subject in a traditional manner, giving a basic overview of the subjects associated with such disorders, so that a better understanding of their causes may be obtained.
This book is also written to the parents of the individual with an eating disorder, for their suffering is even greater than their child's. Here is an opportunity to view the disorders in a different light, with a demonstrable cause for their child's symptoms and actions.
The facts and observations cannot be dismissed until the prescribed tests have all been performed.
Prove what I say is true, or at least prove what I say is false. But get the studies done! Then ask for an acceptable and clear explanation of why these studies are abnormal, and how these abnormal studies are affecting the health of your child with the eating disorder.
W.P. Smedley
M.D. F.A.C.S.
Is no longer
practicing. This
site remains for
information only.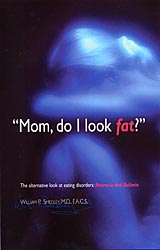 Mom, do I look fat?
The alternative look at eating disorders:
Anorexia and Bulimia
by W.P. Smedley M.D. F.A.C.S.

From The Introduction:
... The psychiatrist and the psychologist have abandoned the traditional medical doctor's approach to the patient with an eating disorder. They have espoused the lawyer's approach to a problem with its inherent weaknesses in those cases dealing with real physical illness. The medical doctor assembles each fact in turn, and assembles a summation of this carefully gathered information, which allows him to finally come up with a positive diagnosis. The lawyer, on the other hand, at the very beginning, looks at the whole picture and then attempts to adapt the facts to fit the case ...
Order this book from Amazon.com
Table of Contents
Chapter 1 ... The Origin Of Eating Disorders
Chapter 2 ... Theories Of Etiology
Chapter 3 ... A Daily Struggle
Chapter 4 ... An Important Connection
Chapter 5 ... The Effects Of Food
Chapter 6 ... Depression And Hypothyroidism
Chapter 7 ... Affective Disorder, Anorexia Nervosa And Bulimia
Chapter 8 ... Drug Therapy
Chapter 9 ... Hypoglycemia - Its Causes, Its Effects
Chapter 10 ... Six Week Modified Low-Fat Hypoglycemic Diet
Chapter 11 ... Treatment Of Hypoglycemia
Chapter 12 ... Hypoglycemia And Bulimia
Chapter 13 ... Chocolate And The "Fat-Free" Label
Chapter 14 ... Christabella
Chapter 15 ... Saint Anthony's Triad
Chapter 16 ... A Surgeon Looks At The Medical Literature
Chapter 17 ... Treatments Of Anorexia Nervosa And Bulimia
Chapter 18 ... ChristaTherapy
Chapter 19 ... ChristaTherapy Diet
Chapter 20 ... Case Histories
Chapter 21 ... Summary
Chapter 22 ... Conclusion
From The Conclusion:
... It is my fondest hope that this effor on my part, prompted I know, by the Holy Spirit and by the previously hopeless suffering of the patient, and especially their parents, who have the medical diseases of anorexia and bulimia, will be relieved.

Additional Information:
Irritable Bowel Syndrome | Gallbladder Disease
Gallbladder Disease in Children | Depression | Gastroparesis
Insurance & Financial Considerations | Followup Stories

Home | Parents | Questions | Therapy | Tests | Diet | Contact
Mom, do I Look fat? The FAT BOOK